A Good Mood Food Brand Packaging Design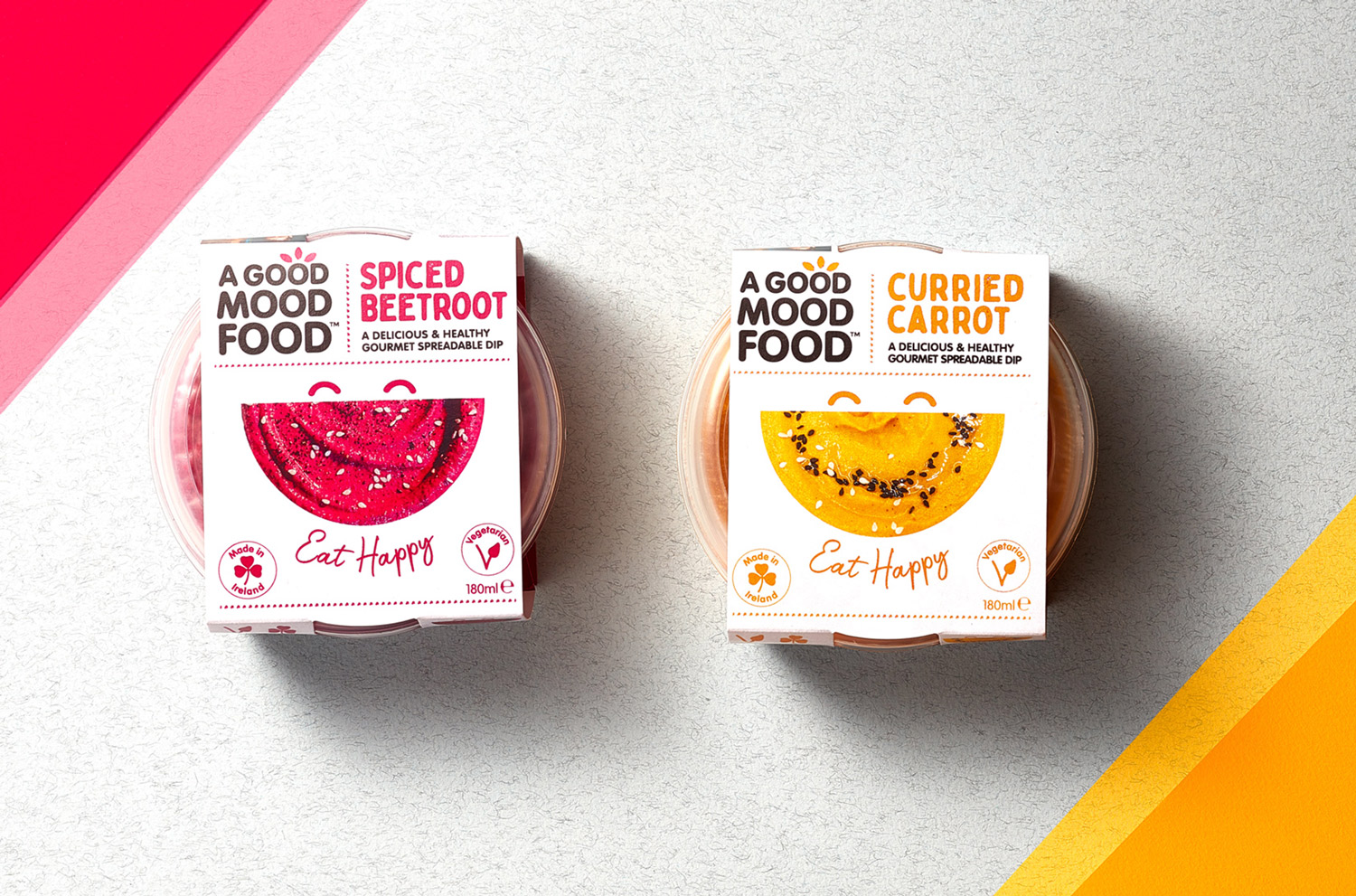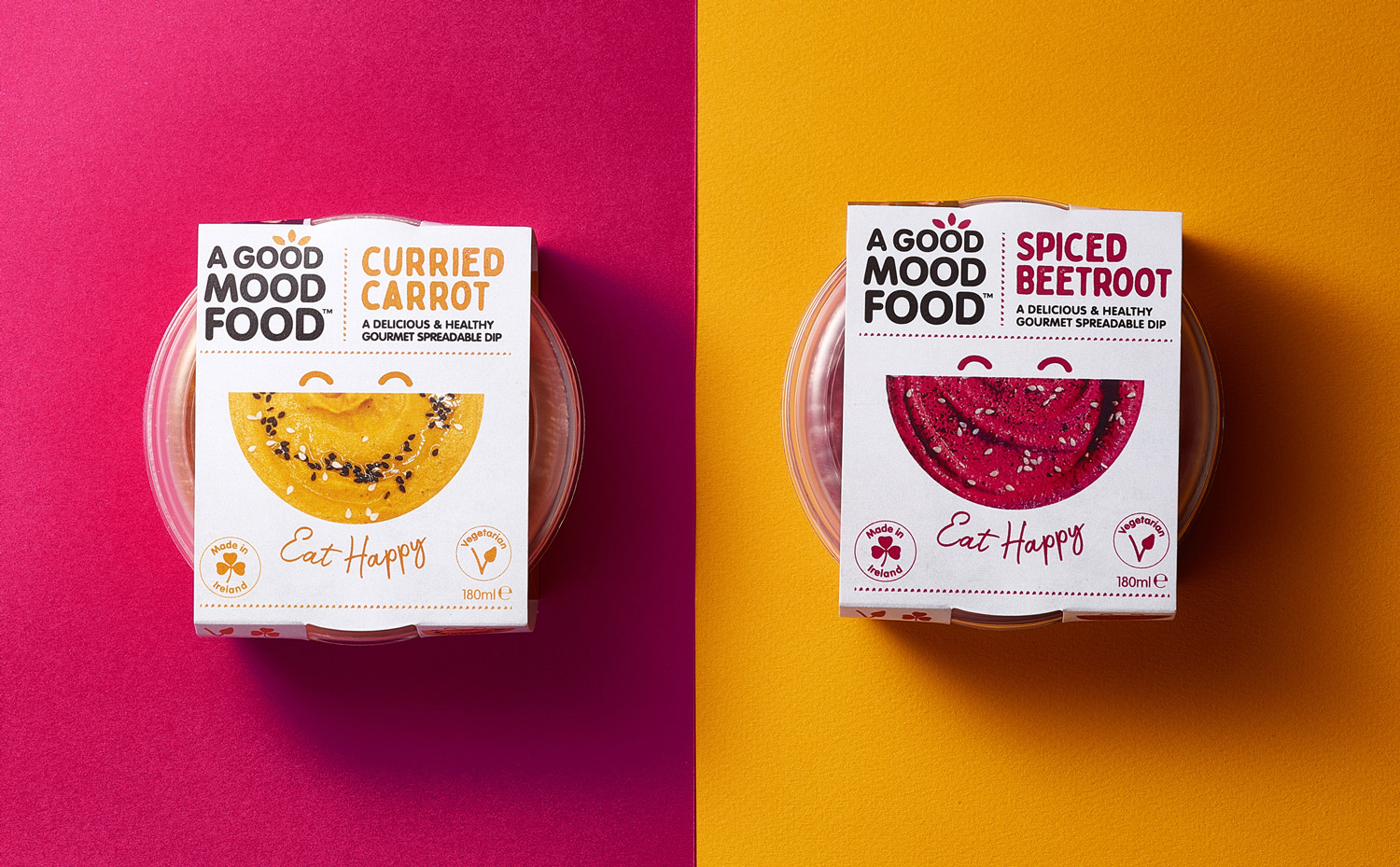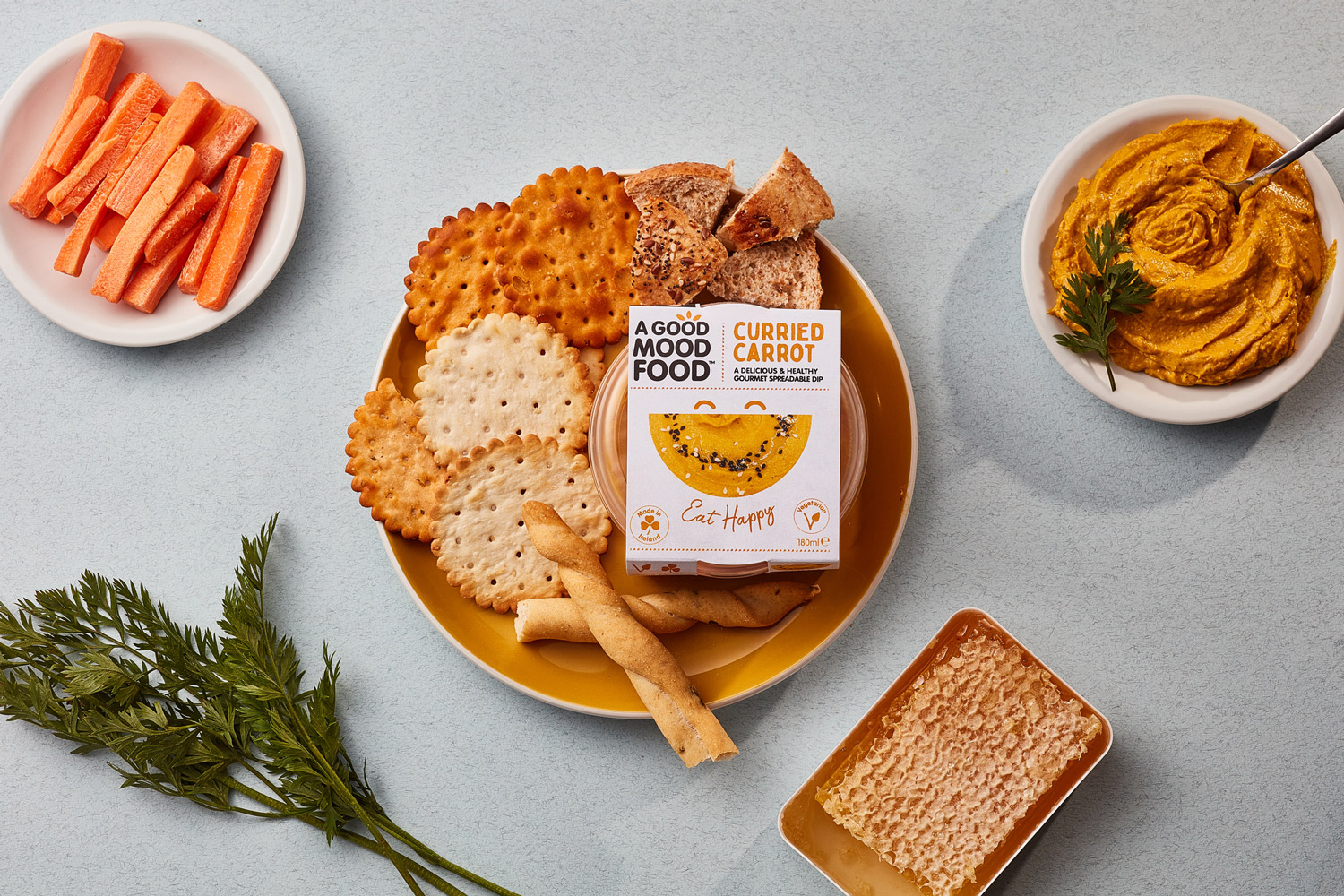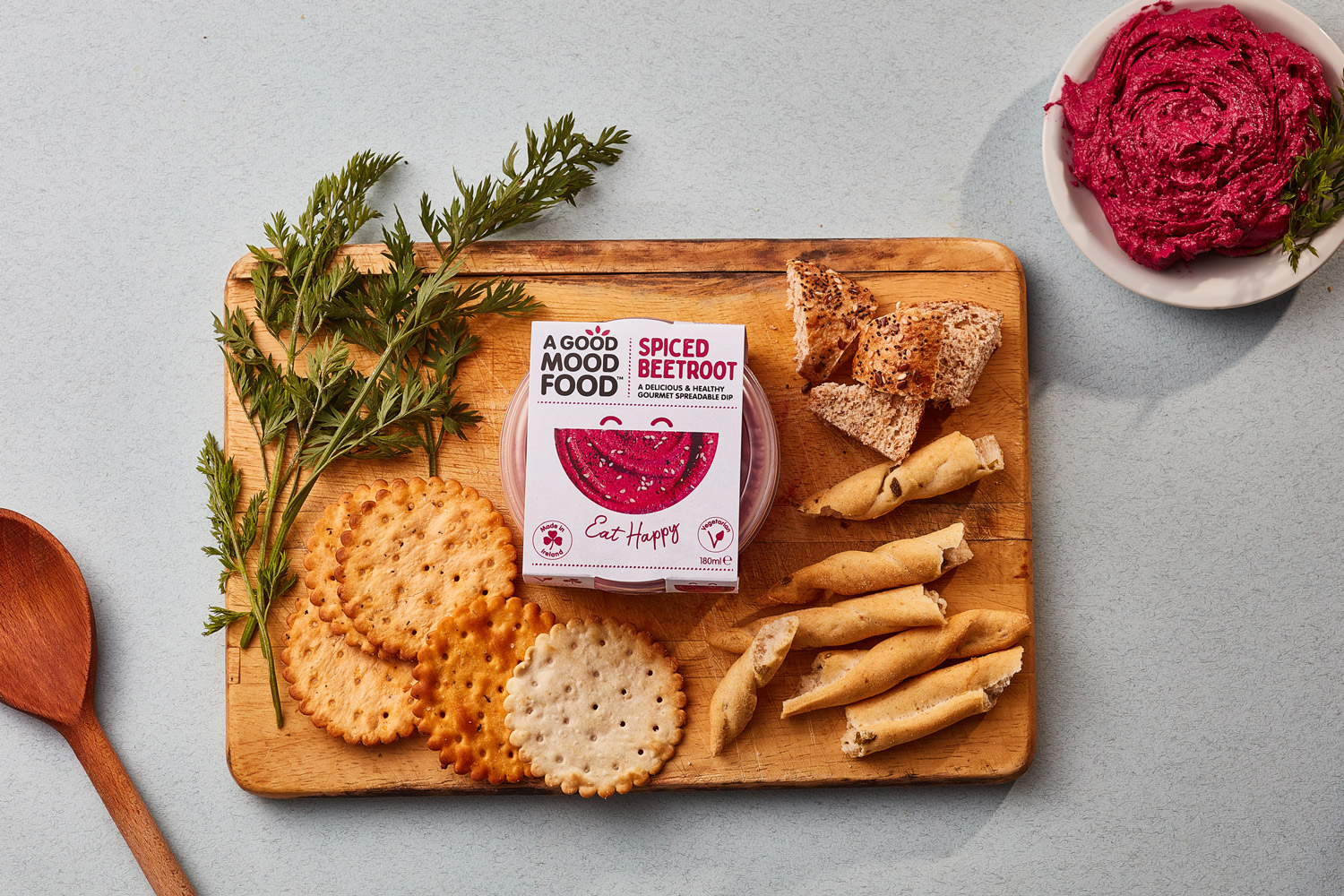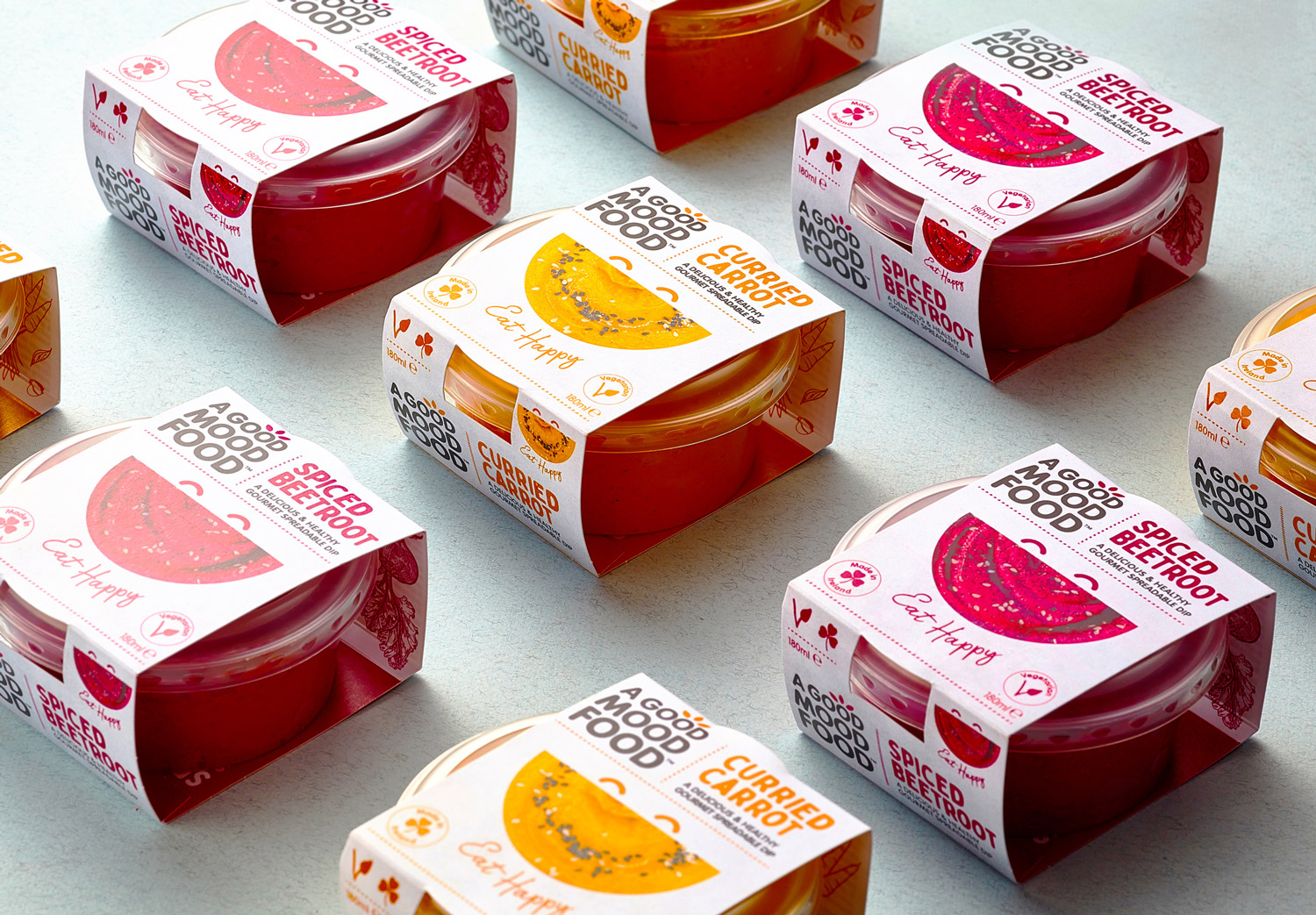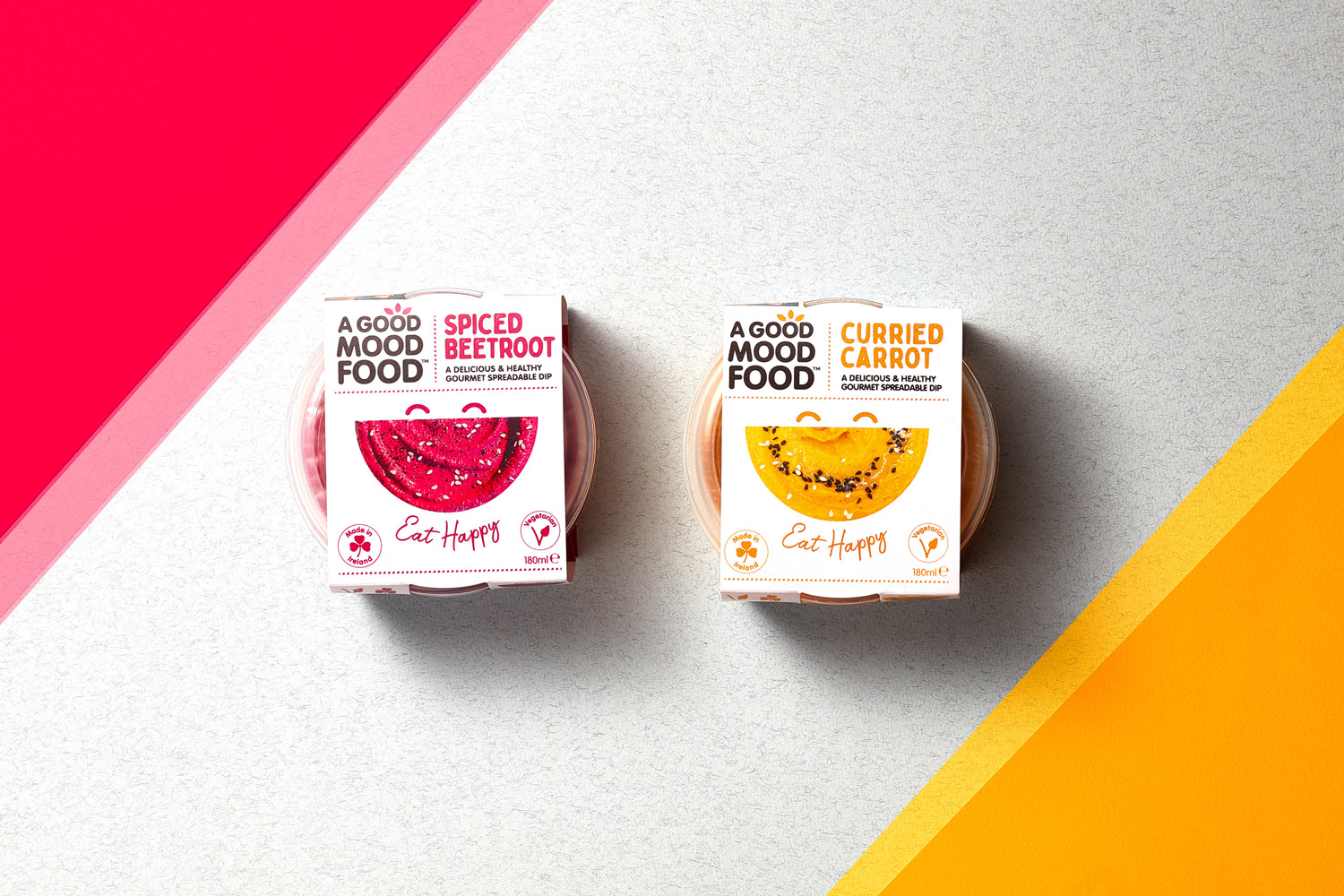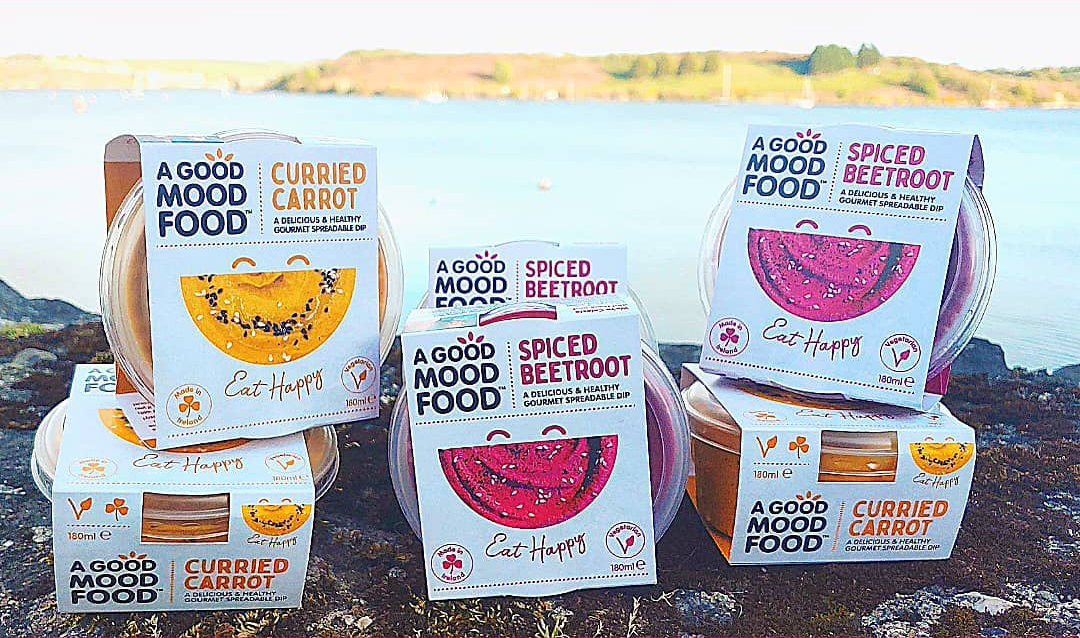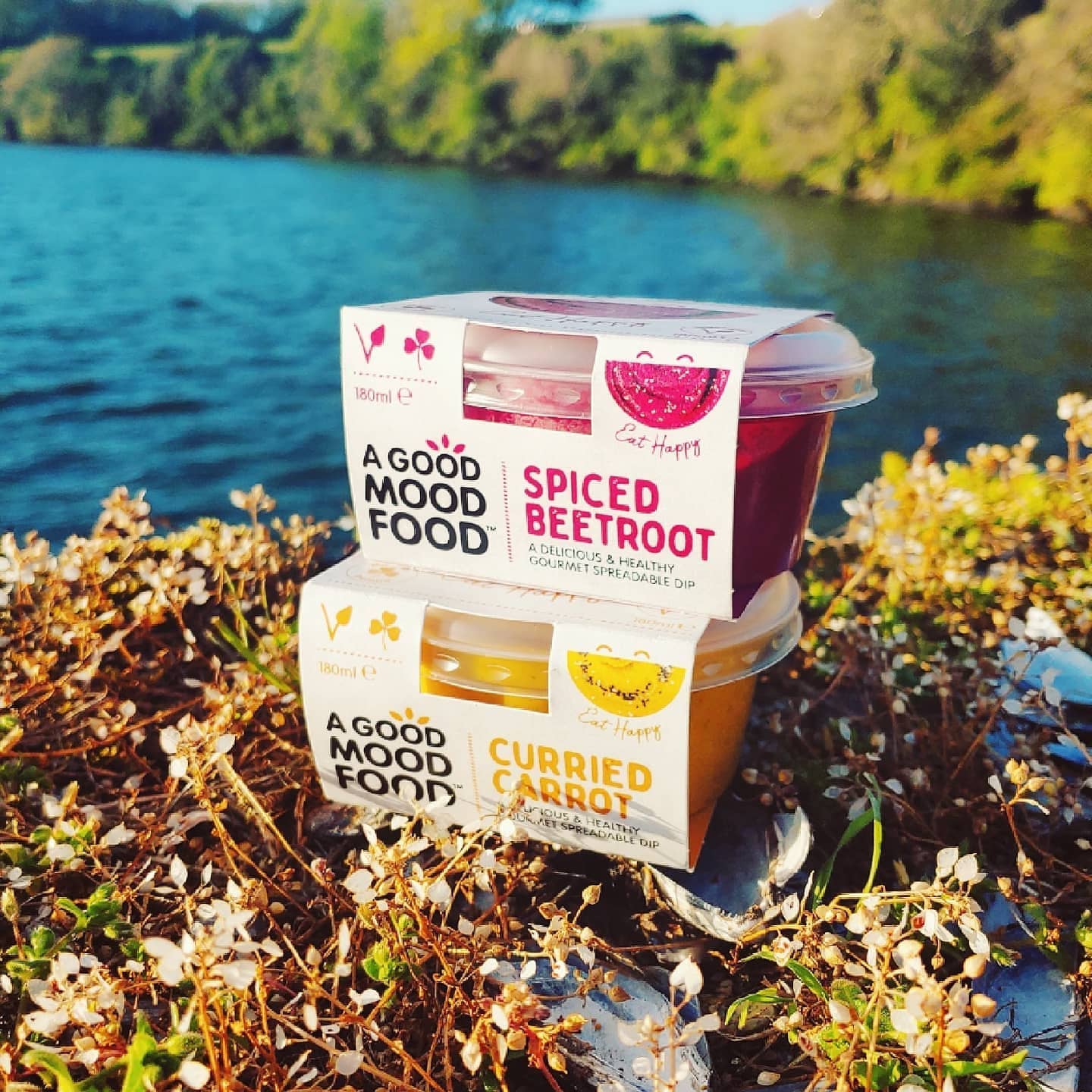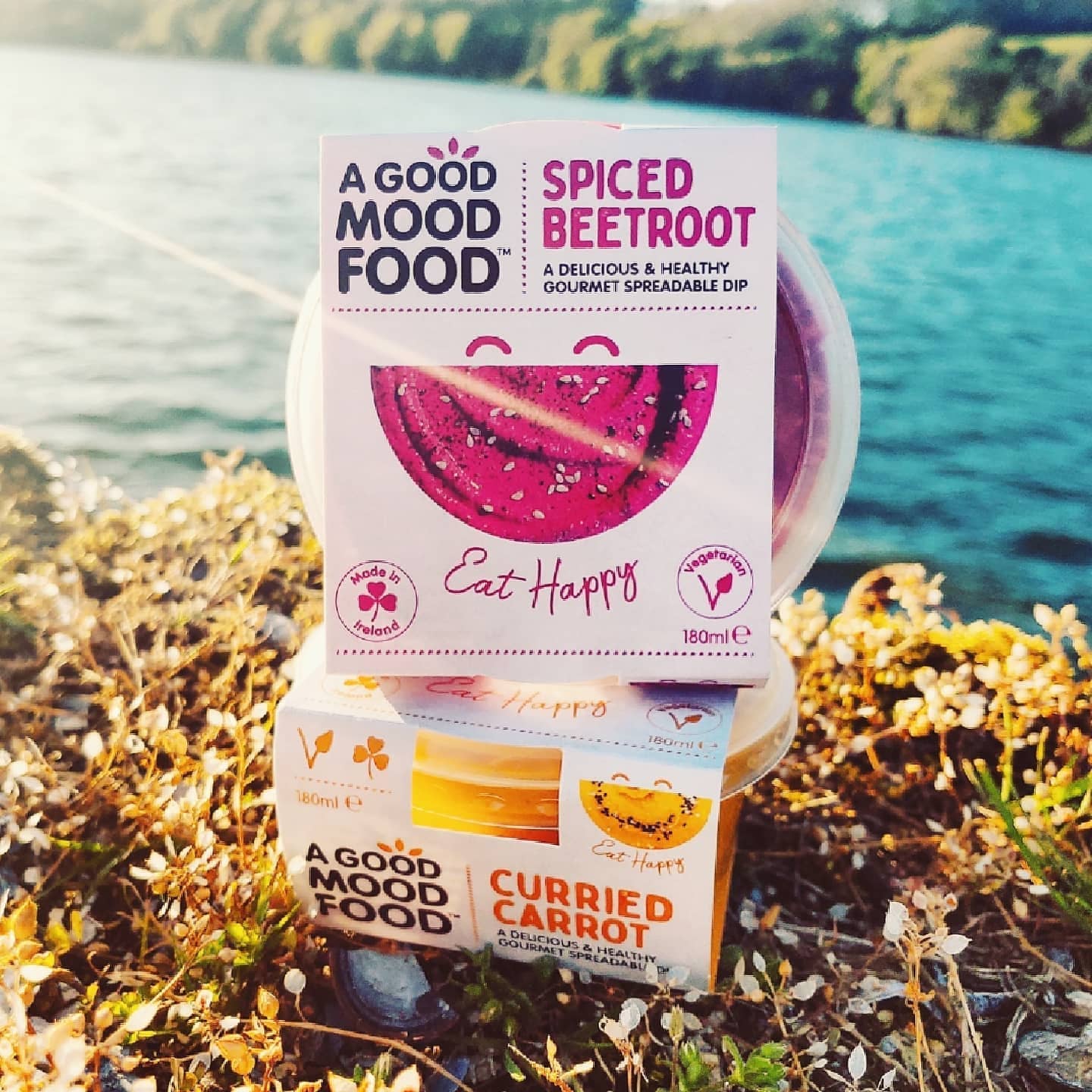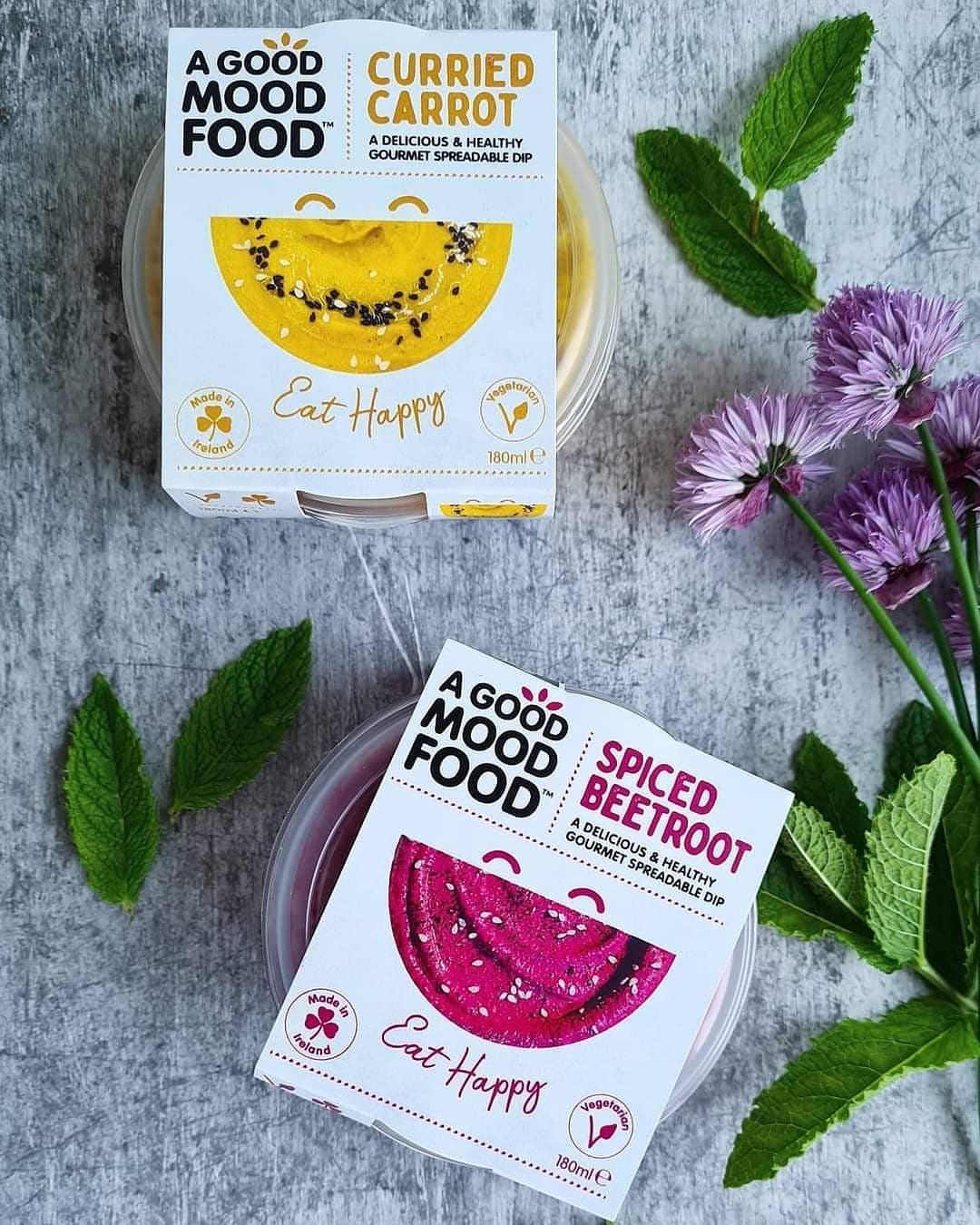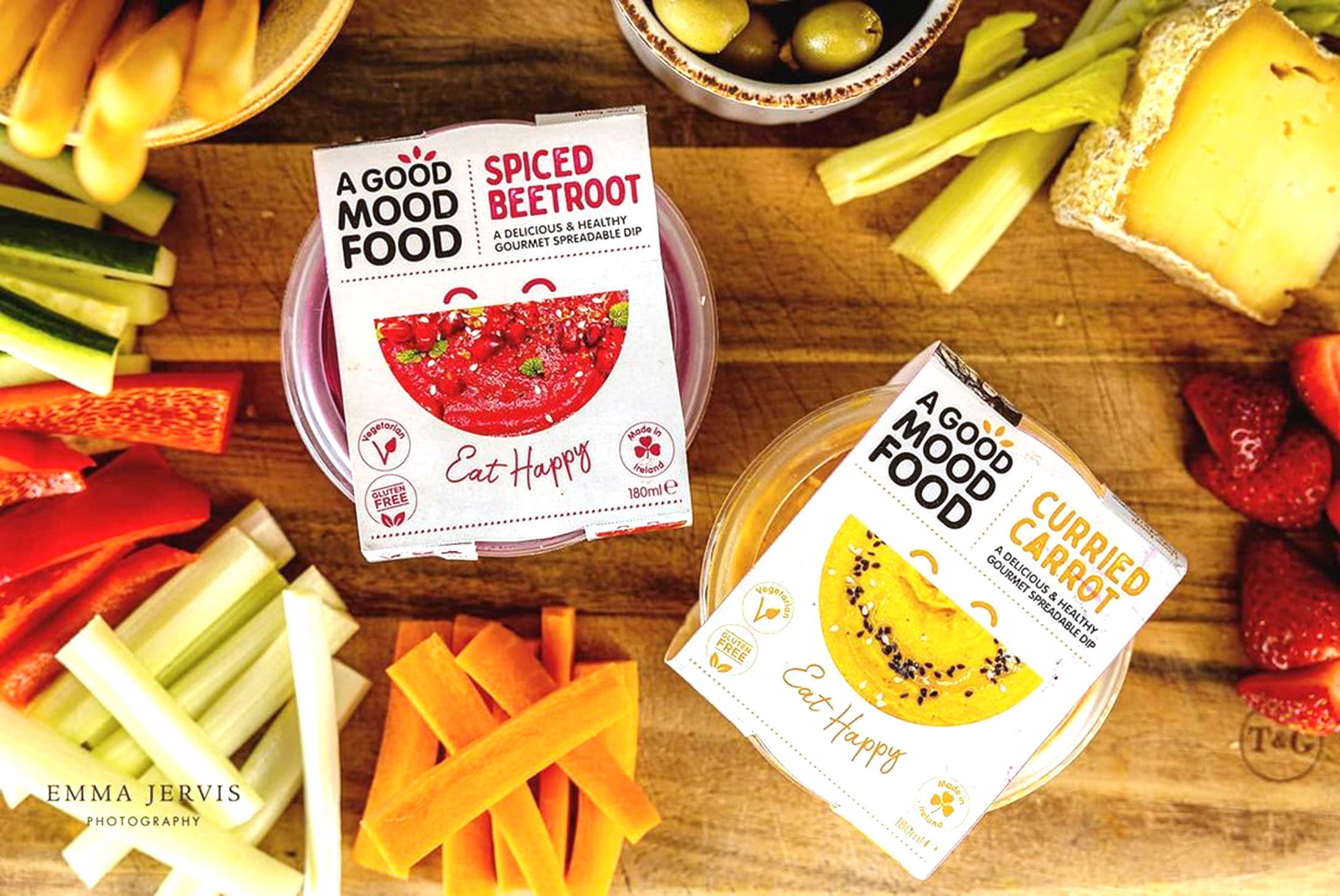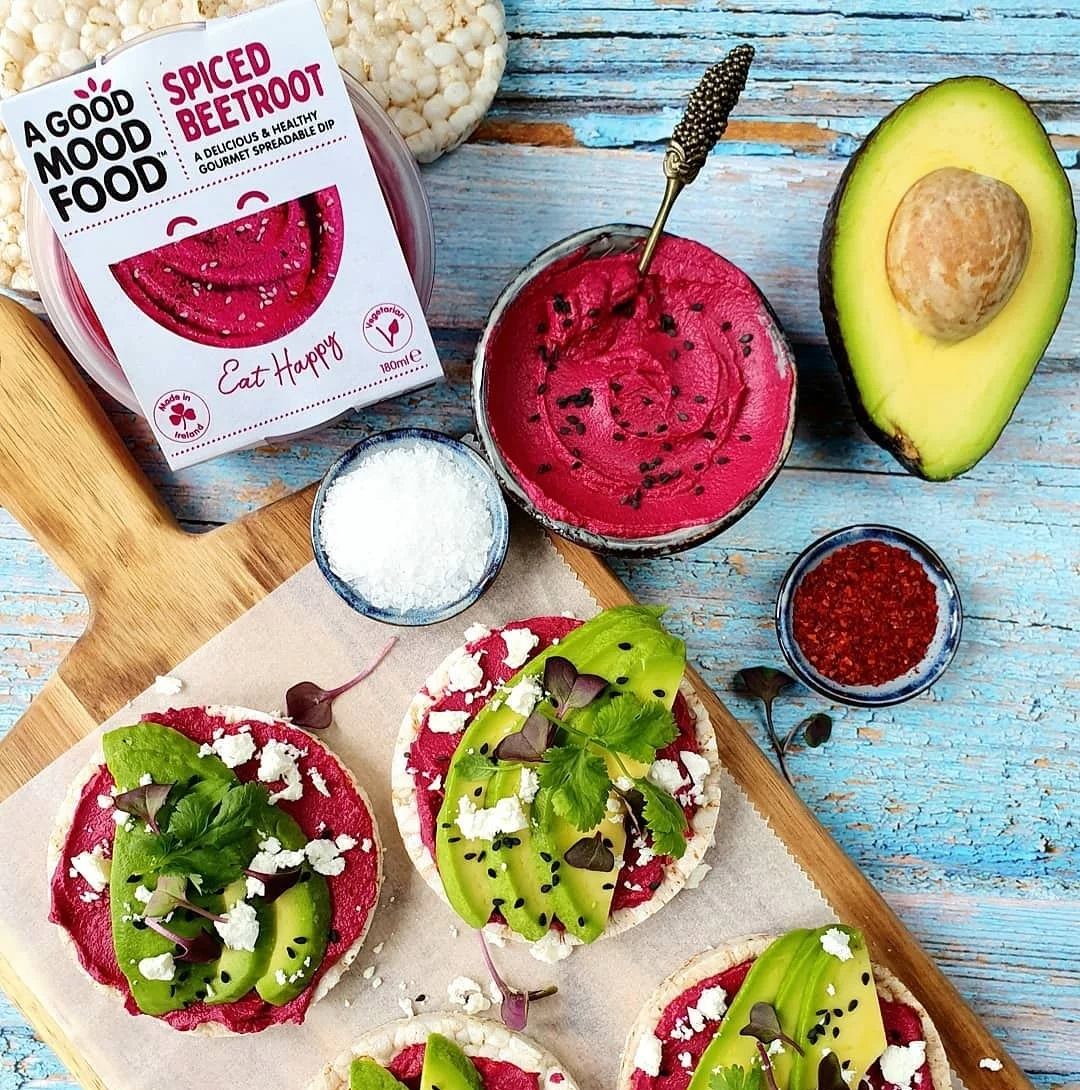 A Good Mood Food creates flavoursome and healthy dips, made with real ingredients, locally sourced. The branding is based around the idea that when you eat healthy, you eat yourself happy, as you are nurturing your mind and body by feeding it with goodness.
The packaging communicates this happy and fun vibrancy that the dips brings to the consumer with the big smile, showcasing the tasty dips within. The strapline 'Eat Happy' further emphasises this. Each flavour is easily distinguished by colour – linking with the colour as the main ingredients inside – such as deep pink for the 'Beetroot' flavour and warm yellow for the 'Curried Carrot' flavour. There is also a new green 'Garlic' flavour coming soon.
Each artisan pot is lovingly crafted with ingredients sourced locally. They carefully select the best produce from nearby farms, which is then expertly seasoned and blended with rich local yogurt to create indulgent dips that are made from over 50% vegetables. The leaves placed over the 'o' in the typography of the logo, link to how there are healthy, local and natural ingredients used in the dips.
The benefits and unique selling points are clearly highlighted with icons, such as how are the healthy dips are Vegetarian, Gluten-free and Made in Ireland, encouraging consumers to buy local, as a growing trend is how people in Ireland want to support local, Irish businesses and the environment which reduces the carbon footprint by purchasing products made by local businesses who source local ingredients. The cardboard sleeves are recyclable and can also be kept as a keepsake, as the inside of the packs feature tasty recipe suggestions which are handy to stick on the fridge! This further reduces waste as the sleeves can have a longer life.
These tasty dips are made with love in West Cork. They are available in SuperValu stores in Cork, to purchase online at Farmsy and in local Farmer's Markets such as Rohu's Country Market in Cork. Find out more on their website.
A Good Mood Food partners with Food Cloud to maintain a Zero Food Waste business, they work with their local branch to help redistribute any extra products among the community. This prevents disposing of any extra waste. Food Cloud help provide over 5 million meals yearly to people in need resulting in
2,450 tonnes of food being redistributed and received by charities across Ireland.

This is just one of the ways A Good Mood Food operate to keep their business sustainable and care for the community. It helps to ensure that every time their products are purchased, a local business is being supported.
As a group, the packaging of the tubs together look like a group of smiling, happy characters – full of energy and life. A Good Mood Food create food that feels good. Keep an eye on their Instagram page for tasty recipe suggestions.
*Photography:
Brendan Ryan Photography & Emma Jervis Photography
Photo Styling:
Clare Lynch & Betsy Gach